Share this Category on your Social Network.
The original Vesuvianite hailed from the area of Mount Vesuvius, of course. Most vesuvianite available is olive colored, but very different from other green gemstones. Sometimes known as idocrase, especially the gem quality stones, Vesuvianite has a look all its own. It is somewhat translucent to beautifully transparent. The very finest is of a pure, even, transparent color.
Vesuvianite, or idocrase, may also be called vessonite or vassonite.
Click Here for the Legend of Buttons & Icons
Used in the Shop

You can confidently pay with your VISA or Mastercard from this shopping cart you
DO NOT
need to have or open a PayPal account. For your safety and convenience PayPal is the payment processor for all payments on this website.
Click Photos for Details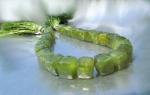 Vesuvianite, Cube
VES-CB-NAT-GR-M8
$76.00
Vesuvianite, Cube, Organic
VES-CB-NAT-GR-S8
$18.00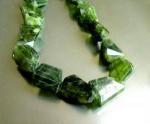 Vesuvianite, Flat Slice
VES-FSN-NAT-GR-M14
$104.00
Vesuvianite, Onions
VES-ONI-FP-GR-M8
$100.00
Vesuvianite, Pears
VES-PEA-FP-GR-M8
$60.00
Vesuvianite, Rondelle, 7-8mm
VES-RON-NAT-GR-L14
$136.00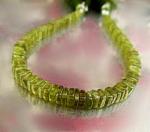 Vesuvianite, Square, Green
VES-SQU-NAT-GR-S8
$26.00